Eroticon Meet and Greet – a Virtual Introduction
So if you're like a lot of us creatives, you may not be completely at ease mingling in a room of many other folks. Lucky for us, we're all showing up at the same place in less than a fortnight at Eroticon, so to help break the ice in advance there's an online Meet and Greet questionnaire. Here's my answers – so looking forward to meeting you all! Don't be shy – come on in 🙂
NAME (and Twitter if you have one)
Tabitha Rayne – @TabithaErotica
What are you hoping to get out of Eroticon 2017?
I have attended Eroticon a few times now and always had a fantastic time – last year was the first time I led a workshop with the ace life model, John Benge – this year we're doing another session, life drawing to stimulate the erotic imagination' – John and I have been Skyping some ideas, and you are in for a treat! John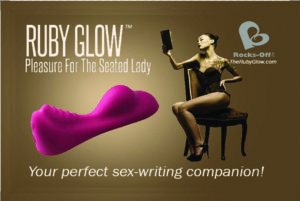 is a true physical artist – I'm so looking forward to working with him and any attendees who join us – its going to be a riot. We're keeping it as fun as possible this year and focusing on the overall theme of identity.
I'm also trembling with nerves as I'm also attending Eroticon this year as a Sponsor with my Ruby Glow vibrator – so I'll be around all weekend to answer questions, show some samples and demos all about this Rocks Off award winning sex toy! You can read more about why here. I'll have a stand of goodies and chat so please please come and find me. I'm particularly interested in how to get involved with sex positive and inclusive projects – looking forward to meeting everyone involved.
This year's schedule at Eroticon is pretty full on but which 4 sessions do you already have marked down as ones you want to attend?
I am hoping to be able to sneak off my stand to join in some of the workshops and talks – I am very excited to see Malin James, Kate Lister (whores of Yore) keeps me truly delighted by her tweets, and anyone else I can squeeze in. It's going to be fab.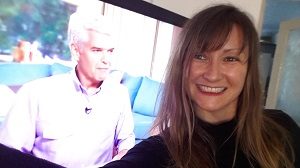 Tell us one thing about yourself that not many people know?
I am a seething, writhing ball of self doubt all wrapped up in glitter and a big cheesy smile 🙂  (though you might know about the glitter and cheesy smile already)
If you made the papers, what would the headline be?
Erotica author overdoses on cherry liqueurs.
If you could have one skill for free (I.e. without practice/time/effort) what would it be?
Playing all the musical instruments. I'm always trying. I seem to collect them, fully intending on learning to play – currently it's the electric guitar but I get so disheartened when I can't rattle off a Metallica riff within the first 3 minutes…
I have keyboards, guitars, a glockenspiel, saxophone, recorders, an accordion, a ukulele  but I don't have the time or patience to learn them properly. It's terrible.
Complete the sentence: I love it when…
There's still another cherry liqueur left…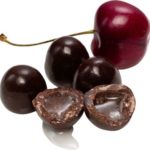 See you soon!
Meet other Eroticon attendees here!