Merry Blissemas!
Yes, every year, Santa's kinky Christmas elves dash about like crazy over at the lovely Smut UK to bring you Season's Greetings and like, a gazzilion sexy prizes – It's my day today so welcome to my christmassy blog.
I'm going to talk stockings! Don't you just love a lady in stockings? I used to be quite a snob and *only* have traditional seamed nylons with suspender belts. I have lots of garters and corsets and sussy belts. I used to run a burlesque business and knew that I had to get hold-ups in for some of my lovely clients but still, in private, I'd turn up my nose.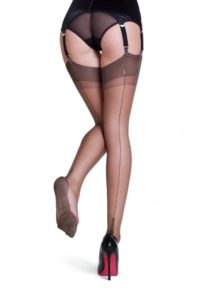 Then, one day, I made a ladder in my last matched pair of my beloved Cuban heel seamers. I looked at the oodles of packaged hold-ups in my wardrobe and took out a pair. I pulled them on – they were modern stretchy and clung to my ankle without a hint of a wrinkle (something nylon is incredibly prone to) – they slid up my thighs beautifully and the sticky elastane tops hugged me tight, but not as  tight as I'd feared. I stood to look at my reflection. I was dreading the result, worried that they'd fall off or otherwise be a ring of lace with flesh hanging over the top.
Guess what? They were perfect! They stayed in place beautifully and the seams were straight and well, my my, I could go about my day without having to adjust or re-fasten popped suspender clips.
So hooray for hold-ups!
Here's my Blissemas gift to you – sign up to my newsletter and get a FREE ebook of my novel, A Clockwork Butterfly, and I will choose a subscriber at random to win, you guessed it, a pair of sexy hold-up stockings! 🙂
I also have a very exciting sale on my Ruby Glow vibrator for Christmas – click here to find out more…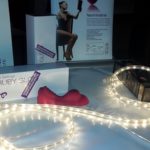 If you like historic romance, I have a new book out called, Her Stern Gentleman – it's set in the 50s when of course my heroine wears her nylons.
Here's a snippet – and thank you for taking part! Don't forget to sign up for a free novel and a chance to win!
Lizzie is trying her very best to be sociable at dinner. She has drunk more wine than is ladylike and can see that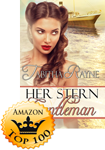 James is also a little inebriated. His eyes sparkle when he laughs at the waiter's jokes and Lizzie realises she hasn't seen that for a long time. There is less than two days to go before they disembark in Canada and Lizzie is almost excited at what adventures they might find there. Knowing you have a home and business to come back to if things don't work is a safety net she is grateful for. It should give them a few years together to explore this world and find themselves again. Lizzie has worked hard on ignoring the ache and twinge in her spirit whenever she thinks of the sailor. If she sees him, she turns on her heel and flees. If he passes before she notices, she looks away avoiding eye contact but inhales deeply, his evocative scent raising the hairs at her neck. Denial. It is the only way she can cope with her guilt and confusion. When James and she make love, she simply closes her eyes tight to block out the images of the sailor's large frame standing behind her and slapping her briskly on her behind. In her fantasies, the hand lingers, a fingertip hooks and dips into her heat. When she comes, she shakes herself free from the image, her juices are flowing and it is James on top grunting away until he spills himself into her.
"Coffee?" James' voice is merry and Lizzie smiles. "You were miles away. I'm asking if you would like coffee."
Lizzie nods and James signals to the waiter.
It is the oddest sensation, observes Lizzie as she stirs sugar into the cup, to be so disconnected from the present. She kicks off her shoes and starts to rub her stockinged toes up and under James' trouser leg to his ankle. He is startled and shuffles his chair back until he realises what is going on. A blush rises from his neck and he smiles at her, reaching out to take her hand. It is a relief to have her icy fingers engulfed in his body warmth and she positively feels the transference taking place.
I'll suck you dry, she thinks and bows her head over their entwined hands, kissing his knuckles gently.
"I need you to…" she begins but can't find the strength.
James leans in, cupping her hand in his tighter.
"What do you need me to do? You know I'll do anything for you, Lizzie. You need only ask." His voice tears at her.
This is the moment, she knows it. Now or never. Images of the sailor's handprints on her ass, and James calling her a slut sear through her mind and she is wet. And hot. Her flesh pulls the heat from James' fingers and draws it in to meet the burning that is rising from within. Her cheeks are glowing, she can feel them. She lifts her face to look at the man she loves.
"I need you to discipline me."
James looks horrified and Lizzie sags, trying to keep her gaze fixed on his. Just when she thinks he's going to let go of her hand, he squeezes tighter and pulls it to his chest over the table.
"What do you mean?" he asks, but Lizzie sees a knowledge in his eyes.
"I need you to discipline me," are the only words she can find and she drops her gaze, pleading silently with all her body for him to understand.
Thank you for opening my envelope and coming on over!
Remember –