Why hello there! I have news of an Award and a Free eBook.
So the first book in my dystopian erotic fantasy trilogy (yup, it *is* all those things 😉 ) A Clockwork Butterfly, is up for an award in the erotica category of the Summer Indie Book Awards!
I know! Exciting, right? If you would like to vote for A Clockwork Butterfly please click this link or the badge. However, there's many many books on the list but it's the very last entry so just scroll right down – or click Ctrl+F and type Tabitha to search – it should then come to my book.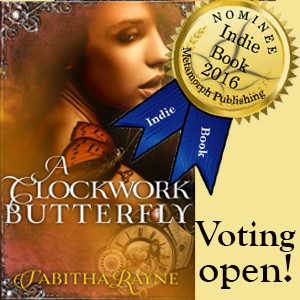 To celebrate, my wonderful publisher, Beachwalk Press is offering this novel for only 99c all through September – click here to buy (email if sale isn't up yet). Or, if you sign up for my newsletter from now until September 12th you can have it for free! Yes, you read that correctly, free! (If you've already subscribed, I'll send you this offer later today.)
So the other good news? Five of my fellow Brit Babes have been nominated for their racy erotica too! The fantastic Kay Jaybee has put together this post to give you all the chat and voting options.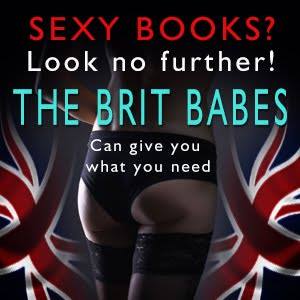 Here's a sexy snippet from A Clockwork Butterfly to whet your appetite
"Angelo." After the talk with the Archmatria, Lena had gone to her sessions with Angelo with renewed enthusiasm. Three days had washed languidly by with caresses, massages, and beautiful oral collections. Then the weekend dragged. With two days of rest for her male, Lena had lay in her bunk pining and taking her pussy in her hands over and over again, imagining it was Angelo's mouth, his tongue, his fingers, his cock. There was something that kept invading her visions of their lovemaking. It was Mae. Well, some of the things Mae had done to her. For the first week of collection, Lena had felt pleasure, but she had also been shy of her own arousal and fantasies. She and Angelo had spent five days exploring each other's bodies, but now, Lena had spent two exploring her own fantasies. And it was being tied up by Mae that kept coming back to her.
"Yes?" His smile was dazzling and smoldering with lust beneath his flopping hair.
"I want you to do something for me." Lena held the silk obi from her kimono tight behind her back and stood with her feet perfectly together. She was trembling, unsure of whether he would reject her request.
"Anything."
"Tie me up and fuck me," she said quickly before she could stop herself.
He looked surprised. No, shocked. She'd shocked him. He was a gentle person. She felt awful. Bowing her head, she wished for time to take the words back. He was silent for what felt like an eternity and Lena forced herself to look slowly up. He had taken off his robe. As her gaze reached his mid section, she took in the most magnificent erection. She started trembling anew and relief flooded her senses as she saw him smiling lavasciously at her.
"Oh, really?" He pounced on her and lifted her off her feet, throwing her onto the bed while she still grasped the obi behind her.
Her breasts swung out and hit the covers first. They were cooler than she expected and she shivered excitedly. Straddling her behind, he freed her hands, pulling them up over her head and then bound them with the thick band. Lena squealed in delight as he kicked her thighs open with his knees and finished tying her arms to the brass headboard.
"I can smell you," he whispered into the back of her neck and nibbled down to her shoulders.
Sensations went streaming down her back and legs as he rolled the flesh in his teeth and lips, scraping her shoulder blades and driving her crazy. She wriggled and he pressed her thighs further apart and he leaned in so that she could feel his hardness between her buttocks. Thrills soared through her as he slowly slid his cock up and down the length of her crack, letting his balls slap gently onto her pussy lips. She pushed her head into the pillow and took a mouthful of the lush fabric, biting down hard and rolling her tongue into the fibers. Every nerve ending in her body seemed to have come alive and she let herself melt into the electric waves. Suddenly, it all stopped and his weight lifted from her body. For a second, she could have been flying, as gravity had tricked her. She lifted her head to see where he'd gone, but as soon as she did, his hand pushed her face back into the pillow.
"No peeking now." His voice was so different, so animal. He sounded like he was growling, as if he was talking from that place in his body where the low growl had initiated.
Lena's cheeks were getting sore from smiling so hard. This was exhilarating and she opened herself up to experiencing every single new sensation. Suddenly, both of her ankles were gripped and she was yanked harshly down the bed, her body stretched out and the obi around her wrists tightened. More strapping was being wound around her ankles and it took all her strength not to shout encouragement. Her legs were pulled and splayed apart and Lena could feel them being tied to the bottom posts. She pulled one leg in slightly and was delighted when it was briskly snapped back into place.
For a few seconds, nothing happened and Lena imagined Angelo staring at the sight he'd created—a disheveled, wanton damsel completely at his mercy. The image made her yearn for his touch. She was so horny, so wet. At last it came, a gentle kiss to her ankle just above the constraints. Then more hungrily, the kisses traveled up her calves and behind her knees, making her dizzy with desire. Her sex was aching and desperate and she tipped her pelvis up, displaying herself to him. At last, his feral kisses made it up the back of her thighs and to the crease where they met her buttocks.
"Mmm…" It was that delicious low groan again. His face delved into her pussy from behind and he parted her with his fingers.
She let out a wail of her own as two fingers twisted up inside her. He licked and tongued the rest of her in time with his thrumming. It was utterly divine and Lena arched her ass up further to catch his kisses. She pulsed her body rhythmically as his fingers slid in and out of her soaking sex, causing her breasts to rub against the sheets. Her nipples buzzed and peaked and she rubbed harder. It was exquisite. But she needed more. As if reading her mind, Angelo stopped all motion and pulled his fingers sharply out of her. Lena took a deep breath and braced herself.
With little warning, Angelo simply spread her ass cheeks with his palms and plunged his turgid cock all the way into her. Her ass rose to meet him as he slammed in deep. This was it. This was what she wanted. Harder, she thought and it came. Harder, faster, slamming and diving, ravishing her desperate pussy, just the way she wanted it. With every stroke, she could feel his head pass the ridges in the walls of her hole. Her excitement built and built until she fell into a moment of blackness, where she was suspended in pure sensation. Everything stilled, then in a huge crescendo, she crashed and came from the very depths of her being and out onto Angelo. She lay panting as he kept pumping her, grabbing at her hair and shoulders.
He let out another groan and Lena came to her senses.
"Angelo! No, stop!" The unmistakable beginning of his orgasm started to shudder in her still spasming pussy. "Stop!" With huge labored breaths, Angelo stopped thrusting and tried to control his orgasm. "Untie me, quick."
If you like this excerpt and want to read more, you know what to do!
99c at Beachwalk
or Free with Newsletter sign up
Vote now (scroll to the very bottom entry – there's hundreds 😀 )
Thank you!