Join me at #EroticonLive for Nude Art and Sexy Stories
This post has been edited to include the 'I'll Show You Mine' post to introduce ourselves – so click HERE to see the other peeps coming along to Eroticon THIS WEEKEND!!! Lordy me – I'm SO excited!
NAME (and Twitter name if you have one)
Tabitha Rayne – @tabithaerotica
If you had the opportunity to rename yourself (or your blog) what would you pick?
Something that came a little higher in the alphabet – like Aangela Aandersen – Tabitha Rayne is always last to be called on the register.
What are you most looking forward to at Eroticon Live and/or is there anything you are nervous about?
It's the people – I am so very sociable – but like all writers, I think, I have a very solitary streak – but when I meet other writers… woweeee – I just explode! I love the whole thing!
Have you planned which sessions you will be attending or are you more of a spur of the moment kind of person?
I am definitely a wait and see what I can cram in – defo Molly's photography – Charlie's sex and disability – maybe some DIY porn with Pandora Blake, Ashley's poetry, Girl on the Net, Kink Craft – sadly, my sessions are colliding with some goodies like Kay Jaybee and peeps – you can only do so much! Oh and if you can hear F Dot Leonora speak 0h, you are in for a treat! Her voice is like a buttery treat… I want to do it allll!
What essential items to your life will be bringing with you to Eroticon Live? (you can have a maximum of 5)
Empty cereal boxes, my pencil box, chalk, spanking gloves and bubbly for the hotel room!
A new cocktail has been made on your honour, what would be the key ingredient and what would it be called?
Hmmm, I love cherry liqueurs so it would be a cherry based delight – maybe called Cherry Heels or sommat.
Complete the sentence; I have yet to…
Stay standing on a surf board
Thank you Molly! See you soon! Click HERE for more attendees!
And here is the original post all about Eroticon!
Why hello! It's about time I told you about the fantastic event: Eroticon Live. It's a weekend conference in Bristol on 20th –  22nd May all about the joys or sex blogging and erotica writing. There's chats, workshops, classes, readings and general sex talk shenanigans over 48 hours. I went for the first time in 2013 and it is where the Brit Babes met and formed – we are Kay Jaybee, Victoria Blisse Emmy Ellis, Lily Harlem, Lucy Felthouse, KD Grace, Lexie Bay and me– we have been encouraging each other and having guest posts on our blog from as many erotic writers we can since then. Our aim is to encourage sex positive community spirit around Erotica. So why am I telling you all this? Well, by actually meeting face to face with your online friends or people whose work you admire, you experience a real bond. I became firm friends with many of the participants.
I also had the opportunity to give erotic writing tips for the book 'How to write Erotica' Hodder & Stoughton and my story The Conference was published in the EroticonLive anthology South Bank Seduction.
To be very honest, the first year I went I was a little apprehensive as it was quite expensive coming from Edinburgh and staying at a hotel, tickets and everything – but I'm telling you, it was worth every penny – ten times over. I learned so much from those giving lectures and workshops but most of all, I learned from my peers. A brilliant worthwhile event. You must come! Buy tickets now!
So – now I've sold you a ticket – will you come to my workshop? 😀
I'm hosting a 2 part life drawing and erotic story workshop with the wonderful life model, John Benge. The first 45 minute session will be a life drawing class – no experience or artistic ability required; this is for fun and idea stimulation. While we will be looking at technique – using light and shade etc., it will be slightly different from a normal life drawing class as we will be talking about idea generation and the feelings that the artist/writer and muse/model relationship conjures.
The second 45 minutes will be all about taking the thoughts and experiences we have explored and applying them to a piece of writing. What is the model feeling under this scrutiny? What is the writer/artist feeling through this intensity? How can we capture this and apply it to our writing? I hope this will inspire a slightly different way of thinking about characters.
It is a theme I explore again and again in my writing because of the utter intensity it evokes. To be the object of undivided attention and adoration – or to be the creator of an artistic ode to your muse. It can be a very potent and powerful mix.
I hope to explore the dynamic of artist and muse and see what ideas can be applied to other relationships. eg. D/s, unrequited love or those forbidden to be close – there's so many possibilities. Maybe writers might find a new way to explore the feelings of their characters. To study them at first analytically then move to wondering what they are feeling and experiencing. You can see my drawings here.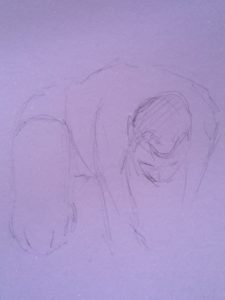 Whaddya think? Go on, you know you want to!
If you're coming to my workshop what do you need?
Whilst I will be bringing some supplies down, I am flying so space is limited – I'll have some paper and pencils, charcoal, pens etc but if you have materials you like to work with please, please bring them. This might sound odd but I always draw and paint on the inside of cereal boxes – that's my favourite thing – so I'll be bringing some of those – I highly recommend using them! And you get to buy extra Coco Pops… yasss! I also mainly work in ballpoint pen – it means it's a little scary because you can't rub out mistakes, only alter them to make them part of it – which I think is often true of writing as well. Sometimes a wrong or unexpected turn can lead to very interesting twists and make for a better final cut.
So what are you waiting for – sign up now! Can't wait to see what we all make together.
I mentioned that the Brit babes formed by meeting at Eroticon – well, those ladies helped me to test and develop my sex toy the Ruby Glow by Rocks Off – which is now up for an Erotic Trade Only Award for Most Innovative Product 2016 (vote HERE – shameless I know 🙂 ) so would that have happened at all if we hadn't met and hit it off? Who knows. All I'm saying is, hanging out with like-minded sex positive people can be the most thrilling and inspiring thing ever.
Hooray!
C'mon, I'd love to meet you!
Tabitha x x