Well, I need to catch my breath before I report back from my adventures at Eroticon 2013 this weekend – so what better way to relax than having a birthday celebration? And what better kind of birthday than a book's!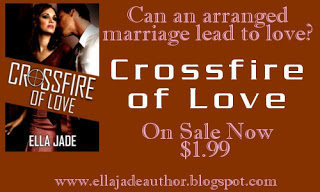 So here we are with Ella Jade's Crossfire of Love which celebrates its first year published this month – congratulations Ella! x x
I'm
celebrating the one year anniversary of the release of my contemporary romance
Crossfire of Love. In honor of that milestone my fabulous publisher Beachwalk
Press has lowered the price of the book to $1.99. That's 60% off! You can
purchase the novel wherever you buy your eBooks including Amazon, B&N and Are
for the entire month of March.
Can an arranged marriage lead to
love?
Recent college graduate Gabriella has finally
married the man of her dreams, the older, charismatic attorney Lorenzo
Martinez. She's had a crush on him for as long as she can remember and always
imagined they'd one day find their happily ever after. Unfortunately, they
enter into a union arranged by their fathers.
Lorenzo is charming, protective, and loyal to
his crime lord father Carlo. When Carlo asks Lorenzo to marry Gabriella he
jumps at the opportunity. He's been drawn to her for many years and knows by
marrying her he's helping to protect her father.
Gabby is resentful and won't be Lorenzo's
charity case. But sparks fly and the couple soon gives into their desire,
realizing they were meant to be together.
What happens when Carlo's enemies threaten
their future? Will someone get caught in the crossfire?
Content Warning: graphic sex, some violence
Buy Link – http://beachwalkpress.com/crossfire-of-love/
Excerpt
Lorenzo walked up the porch steps, turning to stare at her. "Are you
coming, Gabriella?" No one but Lorenzo and his father called her by her
full name. She liked when Lorenzo said it. He'd always made it sound so formal
and sexy.
These were the first words he had spoken to her since they left the
courthouse. They were married in the chambers of the prestigious Judge John
Cartwright. He'd been a family friend of the Martinezes for many years. He was
their go-to man whenever they needed something done fast and legally. Well,
legal in her new father-in-law's eyes anyway.
She hurried up the steps and followed Lorenzo inside their new home. It was
built within a matter of months after she'd agreed to marry him. Carlo wanted
them to have their privacy, but he also wanted to keep them close. He didn't
trust she'd hold up her end of the bargain, and keeping her on the property was
the best way to ensure she wouldn't run.
It was silly, really. How could she run from a family like this? They had
ties all over the world. There wasn't any place she could escape to that they
wouldn't know about. She was a woman of her word. She said she would marry
Lorenzo and she did. She'd find a way to cope. She always had.
Lorenzo pulled his jacket off, poured himself a scotch, and then loosened
his tie. "Would you like a drink?"
"No, thank you," she said.
Most brides would be dancing the night away and drinking champagne by this
point in their wedding night. She didn't think that was part of Lorenzo's plan.
"I didn't think you'd go through with it." He sipped the amber colored
liquid as he looked her over.
"I said I would."
"I know, but when push actually came to shove, I thought you'd
run."
"You don't know me that well," she said. "I don't run."
"Good." He smirked as he put the glass to his lips.
Gabby couldn't take her eyes away from those lips. She'd never had the
pleasure of having them on her own. Judge Cartwright hadn't asked him to kiss
his bride. She hated herself for thinking about him that way.
"You could've stopped this. Why didn't you?" she asked.
As they stood in front of the judge, she kept hoping he'd put an end to the
charade and stop the wedding. It didn't make sense to her why he had agreed to
marry her. She didn't have a choice. Her father's gambling debts made sure of
that. But she didn't understand why he'd allowed things to get as far as they
had.
"I was just as trapped as you were." He downed the rest of his
scotch.
She didn't believe that. She knew he respected his dad, but she didn't get
why he wouldn't have put his foot down and said no to such a life-altering
decision.
"You could've told your father no from the beginning. Why would you
agree to marry someone if you didn't have to?"
"Look." He shook his head. "It's done now. We're going to
have to make the best of it."
"Make the best of it?" She plopped down on the leather sofa.
"I'm twenty-two years old. I just graduated from college, and you want me
to make the best of it?"
"I know this isn't what you might have wanted, but it is what it is.
You agreed, and now it's done. You can't go back on it now. My father won't
forgive that."
Giveaway
Please enter the rafflecopter for your chance
to win a $10 Amazon Gift Card during the month of March. Like my FB page for
details about the swag I'm giving away to celebrate the sale!
You can connect with me at my website or on Facebook