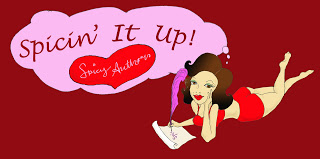 The lady authors at Beachwalk Press have joined pens for our new romantic group blog
Spicin' It Up!
Come along and join us for our launch on Monday 26th.
I will be your host on Tuesday (and every Tuesday, so get in touch if you fancy joining me for a stop and chat!) I'll be blogging about goodness knows what and giving away of a copy of Mia's Books – published by Beachwalk in July. Beachwalk books are now available at Coffee Time Romance with a 20% discount, limited time only!
*I shall of course be blogging in the style of a true romance author in my billowing pink nightgown with a box of chocolates in one hand and a libation in the other…